BRDC ANNOUNCES THREE NEW SUPERSTARS FOR 2016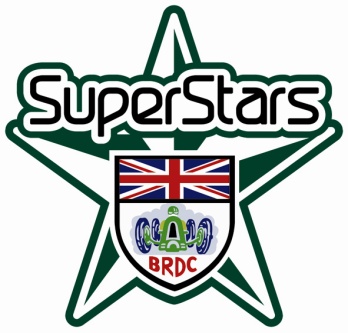 The British Racing Drivers' Club is proud to announce three new drivers to its successful young driver support programme, the BRDC SuperStars.
Formula Renault race winner, Jake Hughes, British GT4 champion, Ross Gunn, and BRDC F4 champion and McLaren Autosport BRDC Young Driver of the Year, Will Palmer, join the nine existing drivers. The BRDC SuperStars scheme, which enters its ninth year, will assist 12 of the country's most talented drivers during the 2016 season. The programme offers a range of advice to enhance their physical and mental fitness, communication, media and marketing skills through workshops and events to cover every aspect of professional racing driver development.
BMW factory driver, Alexander Sims, will continue to mentor and guide drivers as he enters his third year in the position of BRDC SuperStars ambassador. Alexander joins Tim Harvey, former BTCC, British GT and Porsche champion, in advising the drivers in his role as Director of the BRDC SuperStars programme, a role he dovetails with his responsibilities as ITV BTCC commentator.
The 12 hand-picked BRDC SuperStars are:
Alex Albon - Championship to be announced
Alex Lynn - GP2 Series
Ben Barnicoat - FIA European Formula 3 Championship
Charlie Robertson - Ginetta contracted driver
Daniel Cammish - Porsche Carrera Cup GB
George Russell - FIA European Formula 3 Championship
Jake Dennis - GP3 Series
Jack Goff - British Touring Car Championship
Jake Hughes - GP3 Series
Oliver Rowland - GP2 Series
Ross Gunn - British GT Championship
Will Palmer - Formula Renault 2.0 Eurocup & NEC
Previous BRDC SuperStars have all benefited from their involvement in the programme as their careers have developed. Racing Steps Foundation-backed driver, Jake Dennis, has flourished under the BRDC SuperStars tutelage and continues this year. "This is my third year on the programme and it's nice to have it by my side. Having access to Derek Warwick, who has been available to talk, and to Tim, who is very understanding of what racing is really about, is a big help. The BRDC brand is an asset when dealing with sponsors and access to the Clubhouse is really beneficial. The biggest thing though is being able to get advice from the BRDC team."
The newest BRDC SuperStars are equally proud to be part of the programme:
Jake Hughes – GP3 Series
"It means a lot to me. I was a Rising Star for the last two years and people notice the blue symbol on your car and suit. I'm looking forward to showing off the new logo and to doing it and the club proud in GP3. It's a brilliant opportunity and I'm massively privileged."
Ross Gunn – British GT Championship
"It's a massive honour to be joining a well-established club and to join such a well-known programme like the BRDC Superstars, which has a lot of very good drivers."
"It will be my job to make the most of it and make sure no stone goes unturned in my preparation, but also after the races to make sure I am doing everything I can to keep my sponsors happy. I'd like to thank Tim Harvey and everyone at the BRDC for giving me this opportunity to improve going forwarding into the 2016 season."
Will Palmer – Formula Renault 2.0 NEC and Eurocup
"It was great to be selected for the BRDC Superstars programme. I know a lot about it with my brother Jolyon having graduated through it. It's an honour to have been part of a selection of extremely good racers and to have the support of the BRDC. The programme and the support it provides will be a big help in achieving my aim of winning the Eurocup title this year."
Tim Harvey – Director, BRDC SuperStars
"Three of our BRDC SuperStars won major international championships in 2015 and as we enter the ninth year of the programme, I hope that success can be emulated or exceeded this year. I am delighted to welcome Will Palmer, Jake Hughes and Ross Gunn to the BRDC SuperStars line-up as all of them have already shown exceptional talent early in their careers. The aim, of course, of the BRDC SuperStars scheme is to help develop this talent to the point at which drivers become professional. It was therefore particularly gratifying to see no less than seven current or former BRDC SuperStars competing professionally at Le Mans last year, proof that the BRDC can recognise and nurture emerging talent."
For further information please contact:
Thomas Baker - Torque
+44 (0) 7974 779657
Thomas@torquetogether.com
Tim Harvey - Director, BRDC SuperStars
M: +44 (0) 7876 766383
Tim.Harvey@brdc.co.uk
ABOUT BRDC SUPERSTARS
The British Racing Drivers' Club, owners of Silverstone circuit, launched the BRDC SuperStars, scheme in 2008 to further the careers of young drivers. Drivers on the scheme gain invaluable experience with guidance on physical and mental training, media training, marketing, sponsorship advice, ongoing team building exercises and tailor-made progression workshops.
The Club has long been committed to helping and promoting the best young British talent through its longstanding support of the McLaren Autosport BRDC Young Driver of the Year Award.
NEWS ARCHIVE
BRDC announces three new SuperStars for 2016
|
10-Feb-2016