NOTICE OF DEATH - ALISTAIR WALKER (1944 - 2021)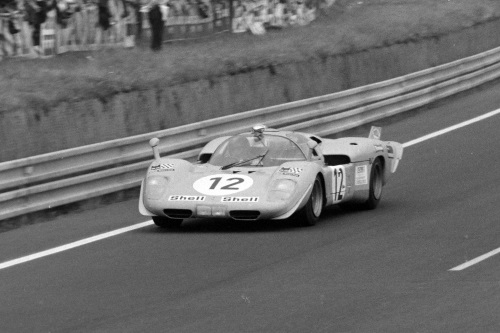 We very much regret having to advise Members that Alistair Walker passed away peacefully at home last Monday night. He was 76 years old and had been a BRDC Full Member since 1993.
Alistair epitomised the independent privateer who was able to flourish in the 1960s and 1970s, turning their hand both to single seaters and sports cars and in so doing competing against, and sometimes beating, prominent Formula 1 drivers. His introduction to fast cars came when he was given a Mk 1 Lotus Cortina for his 18th birthday while learning about farming at the Royal Agricultural College, Cirencester. The Cortina was followed three years later by an AC Cobra 289 as a 21st birthday present. The Cobra was still owned by Alistair when he died.
In 1967 Alistair acquired a 1-litre Formula 3 Brabham BT18 from Frank Williams Racing Cars which he raced without any notable success in the limited number of races which he contested. However, for 1968 he took the plunge into Formula 2 by acquiring the Lola T100 which John Surtees had been using for Firestone tyre-testing. At Thruxton in his first race with the Lola Alistair finished sixth in his heat and was classified 11th in the final after being penalised 1 minute for a push start. Without the penalty he would have been at least a couple of places higher. A week later in the Eifelrennen on the Nurburgring Sudschleife, perhaps not the full strength Nordschleife but rather more challenging than any British circuit which he would have previously encountered, Alistair finished a very respectable sixth. Another encouraging result came in the Grote Prijs van Limborg at Zolder where he finished ninth ahead of Jackie Oliver's Lotus 48 and behind eight established or future Formula 1 drivers in a race won by Jochen Rindt from Chris Amon and Chris Irwin. The year ended at Vallelunga where, after scraping on to the back of the grid as 20th fastest qualifier, Alistair was delayed en route to the circuit by a Roman traffic jam so that, by the time he arrived, the organisers had handed his hard-earned place to Italian driver Corrado Manfredini.
The plan for 1969 was to team up with Frank Williams Racing Cars and race a Tecno PA69. However, it was a year too soon for the Italian former kart manufacturer in Formula 2 and, after various problems in the early races, Alistair pulled the plug on his season and re-grouped for 1970. Part of the re-grouping process involved the acquisition from the estate of Paul Hawkins, who had perished in his burning Lola T70 earlier in the year at Oulton Park, of one of the two Ferrari 330P4s which the factory had converted into Group 7 350 CanAm Spyders for Chris Amon and Jonathan Williams in 1968. In its original guise the car had finished second in the 1967 Le Mans 24 Hours in the hands of Michael Parkes and Lodovico Scarfiotti and, whilst unsuccessful in its few Can-Am races, had enabled 'Hawkeye' to enjoy a very successful Springbok Series 12 months later. A further year on and the Ferrari was less competitive, only finishing twice, in second place at Lourenco Marques just behind the Lola T70 of Frank Gardner and Mike De Udy, and 13th in the Kyalami 9 Hours.
Alistair's co-driver for the Springbok series was Robin Widdows as a prelude to a third season of Formula 2 in which they would run under the Alistair Walker Racing banner with Alistair himself acting as entrant, team manager and mechanic in addition to being one of the drivers. Initially they ran a Brabham BT30 for 'Widz' and a BT23C for Alistair himself. While his team mate was enjoying some strong points-scoring results with his new car, Alistair struggled with the now obsolete BT23C. However, when his BT30 arrived in time for the Alcoa London Transport Trophy at Crystal Palace at the end of May, the second BT30 had arrived which Alistair celebrated by finishing sixth in his heat and seventh in the final in a race won by Jackie Stewart from Clay Regazzoni, Emerson Fittipaldi, Andrea de Adamich, Graham Hill and Henri Pescarolo.
A highlight of Alistair's 1970 season came in the Grosser Preis von Deutschland for Formula 2 cars on the Nurburging Nordschleife which was run on the same weekend as the Grosse Preis von Deutschland for Formula 1 cars at Hockenheim. In the absence of the F1 drivers at Hockenheim, Alistair took third place at the 'Ring behind the March 702s of Xavier Perrot and Hannelore Werner. The BT30 brought some more good results in the European F2 Championship, in which Alistair was classified 11th but best of all came in early 1971 at Bogota, Colombia where a mini-temporada series attracted a strong European entry. In the second part of the first weekend's race Alistair claimed third place behind only Jo Siffert's Chevron B18 and Derek Bell's new March 712 with Graham Hill's Lotus 69 and Rolf Stommelen's Brabham BT30 behind. The combined result gave Alistair fourth on aggregate. On the second weekend Alistair finished fifth in part one but a piston broke in the second part when he was well set for another good result. Alistair also ventured to Japan for the JAF Grand Prix at Fuji where the race was run to a Tasman-type 2.5 litre limit. Jackie Stewart won in the John Coombs F2 BT30 fitted with a 1.8 litre Cosworth FVC motor, from the Mildren-Waggott (Rennmax BN3) of the unrelated Australian driver Max Stewart and the Colt F2-D of Kuniomi Nagamatsu. Alistair finished fourth.
In what was to prove to be his last full season of racing, Alistair also had the chance to share the Ecurie Francorchamps Ferrari 512S in the Le Mans 24 Hours with Hughes de Fierlandt. In what was one of the wettest 24 Hour races of all time, and one in which only two of the 11 entered 512s were classified as finishers, Alistair and the Belgian Baron battled through to the chequered flag and classification in fifth place, just 1.7 miles on the right side of the target distance. For this result as best-placed British independent driver, Alistair was the first recipient of the massive John Woolfe Trophy awarded in memory of the British driver who had lost his life a year earlier in his Porsche 917.
After returning from Bogota, Alistair embarked on another season of Formula 2, the last to be run to the 1600 cc regulations. Seventh place in the final at Thruxton on Easter Monday was a good result considering the quality of drivers he was up against but he was unable to start the Pau Grand Prix, despite setting a qualifying time faster than a couple of well known French drivers. In the Eifelrennen he retired on the opening lap with gearbox failure while seventh place in his heat at Crystal Palace was not enough to enable him to start the final of the Hilton Greater London Trophy. And that was the end of Alistair's mainstream racing career although in later years he occasionally raced Cedric Selzer's Lotus Type 25 and brother-in-law Robs Lamplough's BRM P25 in historic events. He took up flying and gained his licence on a 600 hp Harvard Trainer from World War 2. Some years ago he purchased a derelict WW2 Air Sea Rescue Launch and, together with his wife Marion and a friend they totally rebuilt it in a Polytunnel on their tennis court.
The BRDC extends its deepest condolences to Alistair's wife Marion, family and friends at the loss of a true gentleman racer who represented the finest traditions of the Club.
NEWS ARCHIVE
Notice of Death - Alistair Walker (1944 - 2021)
|
27-Jan-2021